Title:
And I would stand inside my Hell (and hold the hand of death)
Author:
Lily,

annabeth_fics
Artist:

evenindeath
Rating:
R
Genre:
Gen.
Warnings:
references to slash (like the show does). AU.
Spoilers:
up to 4x11
word count:
54,391 incl. alt. ending.
Abbreviated notes:
And for a little bit of extra entertainment, there's a few pop culture references in the story (one of which is very, very vague) -- cookies to anyone who can spot them.
Summary:
The world is coming to an end, and predictably, the Winchesters are directly in the thick of it. With every seal that breaks, things are changing, and Dean is left wondering just who will still be standing when the chips finally fall. Will the Winchesters prevent almost certain disaster, or will Lilith succeed in her quest to raise Lucifer?
Disclaimer:
I own nothing recognisable and really, I don't own much besides that either.
Art post!:
here
.
The alternate ending takes place, timeline-wise, directly after part nine.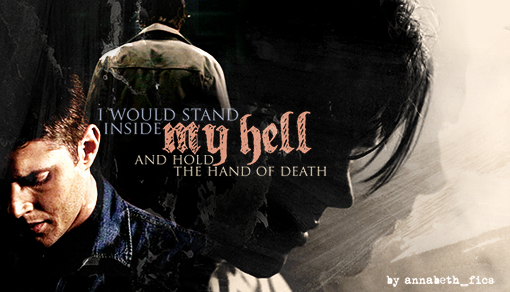 part one || part two || part three || part four: interlude
part five || part six: interlude || part seven || part eight || part nine: interlude || part ten
|| epilogue ||
|| alternate ending ||
|| notes/acknowledgments ||
Note:
This Big Bang will continue to be hosted at

annabeth_gen
, but it will be hosted here as well.